KAYAK PADDLES FROM GULLWING
Kayak Paddles: Take a good idea and improve it. Kayak Paddles. Then keep improving … tweaking … adding … changing until you have something brand new. It could be a space ship or a kayak paddle, but each generation gets stronger, better, and more ergonomic. And this is the story of the Gullwing—the newest generation of kayak paddles.
Art Carlow was no stranger to water sports or to kayaking. He'd also done a fair amount of rowing in his time, but when one of his sons was at Harvard, and rowing for a team, Art frequently found himself standing frequently on the banks of the Charles River in a spectator role.

Over the four years that his son rowed, Art noticed subtle changes in the blades on the oars. "I noticed that the blades, which had been oval and straight, changed to become rectangular and set at an angle."

Realizing that this design change had been made to improve the rowers' speed and power, Art also perceived that the new design let the blades get into and out of the water more quickly and with less effort on the rowers' part.

He decided to adapt these design changes to his own kayak paddle, and while he was at it, he threw in some ergonomic features as well—features that had occurred to him while paddling around the coves and harbors of the Massachusetts' North Shore.

Fatigue-free paddling was Art's design goal. And the Gullwing kayak paddle is the result. It is a new generation of kayak paddle, ergonomically optimized to deliver greater paddling comfort and a straighter, smoother glide through the water.

So for ergonomic comfort, Art designed a paddle with a curved handle. He crafted it from powder-coated aluminum alloy that was light in weight and offered an "advantaged" grip. Art improved the traditional drip guards. Then he turned his attention to the blades. These are made of a nylon/fiberglass composition that offers lightness,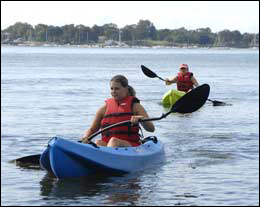 durability and extra power. He made the blades to snap on and off for easy replacement. And, taking his cue from the Harvard rowing team, he engineered a blade design that was curved for an enhanced stroke—a blade asymmetrically shaped and angled to carve maximum water area from each stroke and to provide greater speed and straighter glide.

Who uses the Gullwing kayak paddle? Clearly, folks whose physical challenges might have limited their ability to enjoy the sport of kayaking have found they can enjoy the sport in comfort. Young families and weekend kayakers are enthusiastic about Gullwing. Fishermen applaud the adaptability of some of the Gullwing benefits to their sport: the balanced paddle rests easily and safely on the kayak's bow or snugs neatly along its side. The design, which allows the paddle to flip 180 degrees to reverse direction or to stop, allows them access to narrow coves and inlets where fish like to feed. In fact, there are Gullwing fans in all age groups and with a wide range of water skills and abilities.

Art Carlow himself admits to a few physical issues—rotator cuff and disc problems. But his Gullwing kayak paddle is allowing him hours of pain-free, fatigue-free recreation as he continues to explore the waterways—salt and fresh—of his native New England.
It's easy to order anyone of our kayak paddles. And remember all our products are made in the USA with American components. You can order both models of the Gullwing Kayak Paddle right from this web site. Just click here and go to the Buy Now page and chose either the 215cm or 230cm model. You can pay for your Gullwing kayak paddles securely with your credit card or with your PayPal account. And before you know it you'll be gliding rather than digging.