GULLWING ERGONOMIC KAYAK PADDLE
I'm Art Carlow, the inventor and designer of the Gullwing kayak paddle. I'll start this story by admitting that I have some rotator cuff issues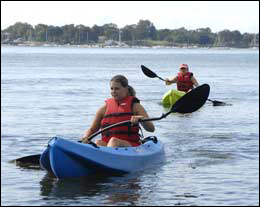 and a sometimes-dicey disc in my back. But give in to these health inconveniences and stay home? That's not my style! If I can't handle the technology of my sport of choice ... why, I'll simply change the sport's technology.
But maybe I'm getting ahead of the story.
During the four years that I watched my son row for Harvard, I noticed that the shape of the blade had undergone some unique changes. It went from oval and straight to rectangular and set at an angle. This new shape improved the rower's speed and power, and allowed the oar to get in and out of the water quicker and with less effort. This was when I thought of adapting this concept into a kayak paddle. By adding a newly designed blade to some ergonomic curves and angles, I came up with the Gullwing Paddle.
So beginning with the blade design, I built one benefit-laden feature onto another to develop the Gullwing kayak paddles. To list a few: angled blades that cut just below the water surface for glide rather than heavy dipping ... changeable blades ... bowed handle contoured like a kayak's prow made of powder-coated aluminum for lightweight paddling and improved grip ... And above all, an ergonomic design for hours of fatigue-free paddling.
The Gullwing has been warmly welcomed by would-be paddlers with a variety of physical challenges, but it is being enthusiastically received, as well, by young families and weekend kayakers, by salt water and freshwater kayak enthusiasts of all ages and physical abilities. And me? I'm out on the water for hours at a time with no pain. Count me as one who'd rather glide than dig.